First day of racing is over, and what day it was!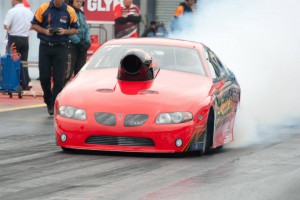 What a day it has been!
The first round we ran 6.68. There we were pleased with considering it was the first turn for the weekend, but we also saw that we could improve ourselves!
Second round we did it, we ran 6.62, which is also the same as our PB!
Currently as we are second after Jimmy.
Now we will charge the batteries, fix the car, eat, sleep, and tomorrow we'll run with everything we have!
After qualifying session 2:
1. Jimmy Ålund 6.5516
2. Magnus Petersson 6.6274
3. Michael Malmgren 6.6601
4. Thomas Lindström 6.6662
You can still follow us here in Santa Pod:
http://www.eurodragster.com/santapod/live/2014fiaeuropeanfinals/default.asp