PB Pro Stock racing wish Merry Christmas and a Happy New Year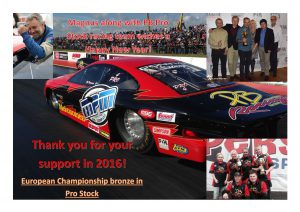 Many thanks to all sponsors and supporters for their support during the season 2016. It is thanks to you that this is possible!
The season ended with a bronze in the European Championships.
Now we are looking forward to the upcoming season 2017, and there are many exciting things to look forward to next year. Are you curious? Follow us here on the website and on Facebook for the latest news from us at PB Pro Stock racing.
But for now, we say thank you again, and a happy new year!
Over and out for the last time in 2016
//Tobias
Webmaster PB Pro Stock Racing team